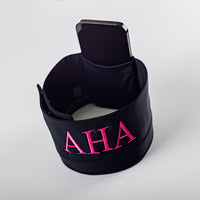 NEW!!! AHA Wrap with Pocket!
Who doesn't LOVE a Pocket! Our super comfortable, monogrammed AHA Wrap with a Pocket is perfect for professional and casual settings. Always giving you a leg up on keeping your mic up!
AHA! Finally...a solution.
Created by a news anchor, the AHA Wrap is a comfortable, secure, and adjustable leg wrap that holds your microphone or IFB during those long hours in the spotlight. Ladies, get ready to say "bye-bye" to that unflattering back bump and say AHA!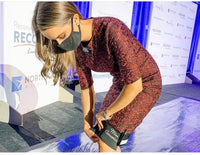 Beauty & Style
Miss America 2020 Camille Schrier

"I wasn't expecting to wear a mic pack for my presentation, and I didn't have a good place to clip on my dress...BUT luckily I had my AHA Wrap. The perfect solution when you need to get mic-ed in a dress. All of my ladies in broadcasting or hosting...YOU NEED ONE OF THESE!"
Testimonials
Honestly, this is the best wrap I have ever used. I've tried a lot of things—medical devices, soccer socks and, believe it or not, the arm of an old sweatshirt!

Anchor | Baltimore, Maryland
This is exactly what I needed. The AHA Wrap stays in place. It's so comfortable that I forget I'm wearing it.

Anchor | Richmond, Virginia
I wear it every day. It snaps perfectly, and it's snug and comfortable.

Reporter | Raleigh, North Carolina
My news director just bought me an AHA wrap and I used it for the first time this morning....I LOVED IT!!!!! I have been using a lace velcro one that got really stretched out and the lace was shredded from the velcro. I sent my ND a link to the AHA wrap and I'm so thrilled.

Anchor| Albuquerque, NM
Thank you AHA Wrap for making such a great invention. Now when I wear a dress, I don't have to be creative with the mic pack!!

MMJ, Waco, Texas

AHA!... We found another Solution!
In true AHA fashion, we found a solution to your carrying needs. We've partnered with our sister company Triv3rsa Bags!
Visit Triv3rsa Bags Now